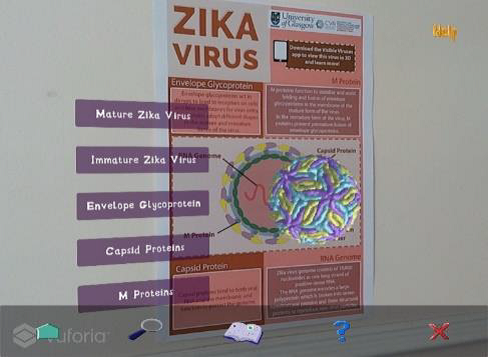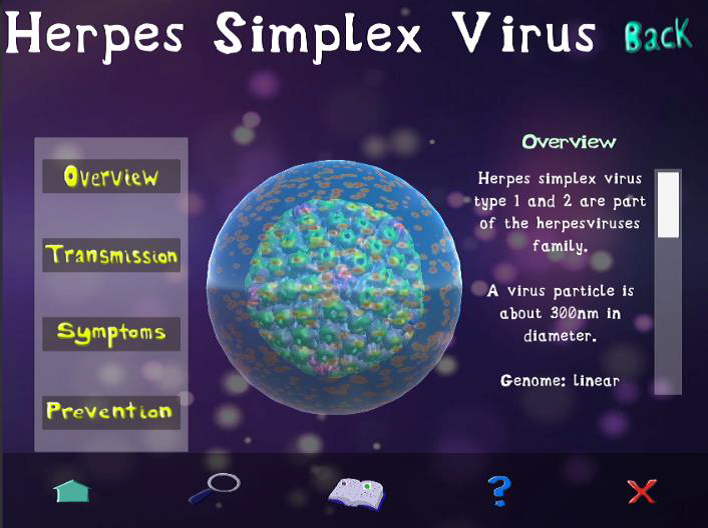 How do you learn more about something that's too small to see?
For researchers at the CVR it's what we do for a living (and it's a great job), but outside of a research lab it can be hard to get a clear view of the invisibly small viruses that surround us. Fortunately, we now have an app for that.
Students at the Glasgow School of Art have been collaborating with Ed Hutchinson and Connor Bamford at the CVR, to help you learn more about viruses using your phone or tablet, some posters, and the power of augmented reality (AR).
Rachael Suétt, a recent graduate of the University of Glasgow/Glasgow School of Art Masters in Medical Visualisation and Human Anatomy, has released the app 'Visible Viruses' to help people understand the viruses that surround us all. "Proper comprehension of the 3D nature of viruses and the misconceptions surrounding them are important," points out Rachael. These issues, she realised, were "not sufficiently addressed in current virus education," and so she set out to target her app particularly at secondary school students.
She therefore designed a multimedia educational tool, which combines posters and an app to explore key features of three viruses. The posters can be used on their own, but as Rachael explains they also use augmented reality to trigger animated content in the app "so that they provide the user with a whole new perspective on viruses." Together, the resources link detailed 3D animations, wide-ranging text and quizzes to provide up-to-date information about what viruses are and what they do.
Ed Hutchinson, who co-supervised the project, says "it's fantastic the way Rachael has packed a huge amount of information about viruses into such an accessible resource. This includes recent cutting-edge research from the CVR on the structure of herpes viruses, 3D models of influenza viruses built in a previous collaboration with the Glasgow School of Art, and a chance to look up close at the changing surface of the Zika virus, a research focus for many groups here."
The Visible Viruses app and posters can be downloaded for free below, and we hope they are flexible enough to let you explore viruses at home, in the classroom, or anywhere you can set up a poster and point your phone at it. We'd love to know what you think of them – please get in touch by e-mail at CVR-publicengagement@glasgow.ac.uk, tweet us @CVRinfo using the hashtag #CVRvisibleviruses or, if you would like the chance to win more goodies, fill out the feedback form below.
These educational materials are freely available under a creative commons license (CC-BY-NC-ND 4.0). The app should run on any Android phone or tablet with OS 5.0 (Lollipop) or later, though you may need to adjust your settings to allow content from unknown sources (this can be reverted after installing the app if you wish). This app is being developed as part of a student project and is still undergoing testing; it should run without issue on suitable devices but it is supplied as is and we cannot be held liable for any issues arising from its use.
We're keen to make the app as useful as possible and if you use it we'd be really grateful if you can complete a quick survey. It should take less than 5 minutes, and as an incentive, 5 responses will be drawn at random to win an MRC goodie pack including a hard copy of our colouring book Art Goes Viral and a set of colouring pencils. Please complete the survey here: https://goo.gl/forms/f1u2I6mlRfEHWlG52