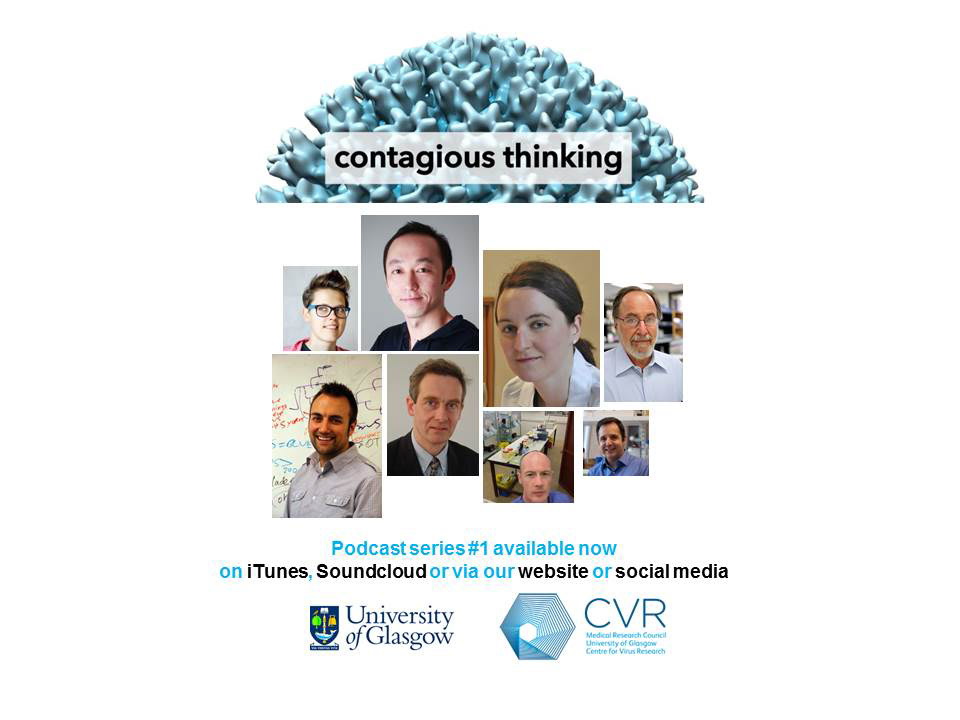 This summer Contagious Thinking (the blog and podcasting outfit for the MRC-University of Glasgow Centre for Virus Research) released our very first series of podcast episodes, which you can download and listen to
here
.
This first official season follows a long back catalogue of podcast episodes from 2015 > 2017 and continues our exploration of virology through Glasgow/

Our episodes are usually less than 30 minutes long and aim to get a glimpse of the personality of the researchers underlying the science.

In this collection of 8 pieces, PhD students and postdocs from the centre chat with world-leading virologists who have visited Glasgow in the last year. Across the run of podcasts we talk about some of the most timely and important topics in virus research today, including influenza virus molecular biology; 'digital epidemiology'; how viruses escape from the immune response of humans and fruit flies; and tackling emerging infections across Africa using new sequencing systems. The series culminates in finale with a chat with Professor David Baltimore, Nobel Prize winner, who won our 2017 'Sir Michael Stoker Award'.

We get to hear about all these topics from a diverse group of leading researchers from across the world at different stages of their careers. For example, we talked with PhD students, postdocs and lab heads at varying levels of seniority. We thank them all for their time and knowledge.

This series was only made possible by the dedication of our podcast and blogging team, which includes staff and students (thank you to their lab heads for allowing them to help out!). Specific individuals who helped with season 1 are: Jack Hirst (Hutchinson lab), Connor Bamford (McLauchlan lab), Andrew Shaw (ex-Palmarini lab), Douglas Stewart (Wilson lab) and Yasmin Parr (Hosie lab).

In particular this podcast could not have existed if it were not for the efforts of Jack who tirelessly spoke with researchers and produced and edited the content. We are also forever indebted to Yasmin for her help in looking after the blog side of the podcast.

We now look forward to what we can deliver with series 2, which will come in the autumn. Fingers crossed… If you would like to be involved in any way then please let one of the team know.