By 
Sara Elg,
Research Technician for the MRC-University of Glasgow Centre for Virus Research.
Tesco Maryhill Community Funday – 8th July 2017
On one of those rare sunny summer days in Glasgow, our team from the CVR – armed with contagious knowledge, viral curiosity and a whole boatload of stuff for brand new & exciting outreach activities – set out for Tesco Maryhill's Community Funday. The parking lot was filled with families and tempting stands for children of all ages and although we were placed next to the bouncy castle we attracted a neverending stream of curious minds and budding scientists. During our four hours there we had the privilege of engaging with an estimated audience of 100 visitors between the ages of 3 and 90 – luckily our activities, designed by amazing CVR scientists - suited a broad range of ages and abilities. We even managed to cross language barriers as an intrigued German family walked past!
Three activities were on offer: Build a Virus, Body Fluids & The Grand Glovebox Challenge. Our younger visitors gladly helped us build viruses of their own brilliant designs with colourful air dough, paper DNA and pegs for structural features – securely contained in neatly labelled biobags of course! The activity is designed to inspire children to think about the structural makeup of a virus and what parts are needed, but also to start creators thinking about where the virus might exist and how it would get there. Our Body Fluids (although gross) were in this respect really helpful in assisting with ideas for transmission of newly conceived viruses.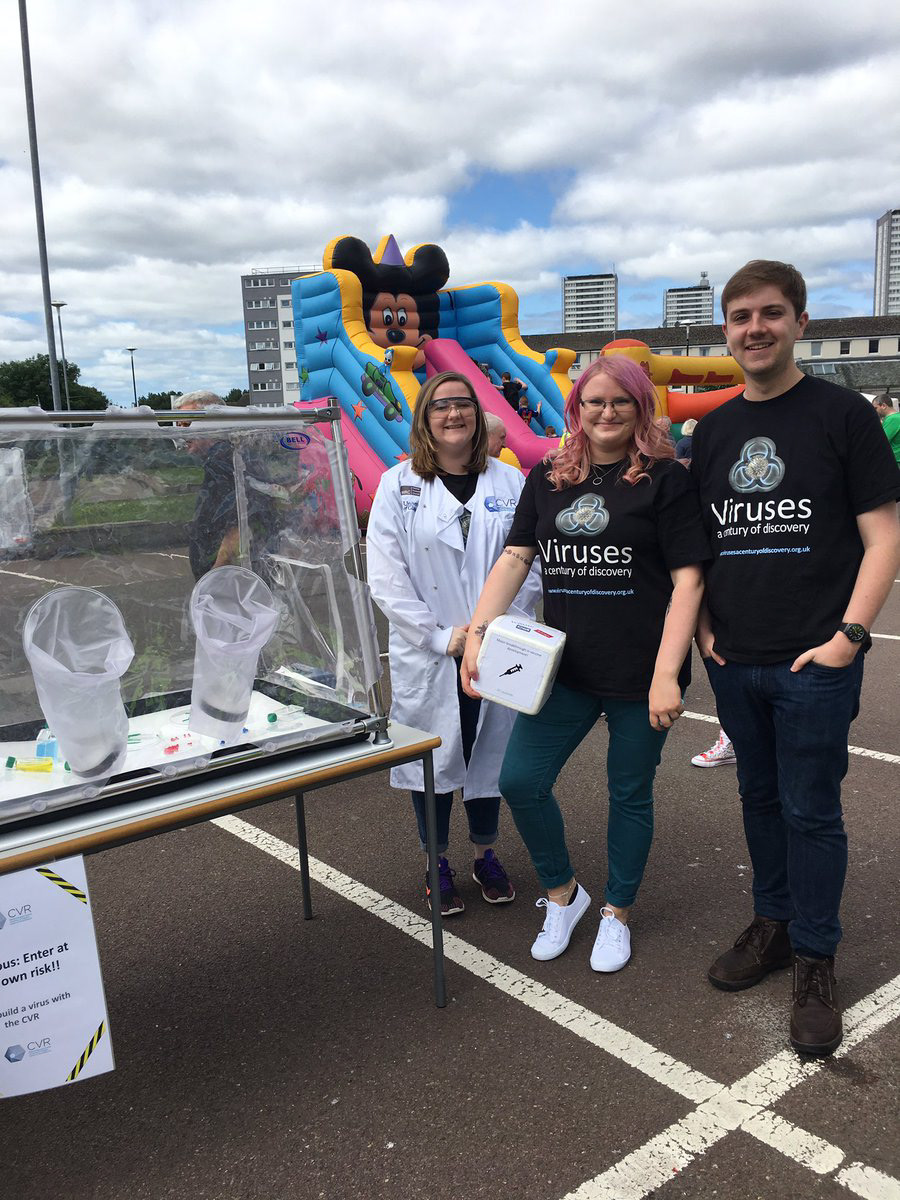 Our last very popular activity was The Grand Glovebox Challenge, where our community professors raced against time and challenged their fine motor skills in a simulation of what our arbovirus scientists do in higher containment lab areas or in the field when working with mosquitoes. In a 'true to life' environment with a full PPE kit of lab coat, gloves and goggles, our challengers were asked to complete a series of tasks inside the glovebox: moving pegs (or 'mosquitoes') with forceps from their individual Petri dishes to others in preparation for dissection, and transferring liquids of various bright colours from their flasks to others in an almost painfully accurate depiction of what we do day-to-day in the lab. The leader board was impressive, with times consistently under 60 seconds – easily beating the many adult challengers who first tried out the activity at the Glasgow Science Centre Lates session 'Under the Skin'. Many challengers kept coming back: either to improve their time, beat a competing sibling or friend or just to feel like a scientist with a cool pipette again! The activity sparked many interesting questions from our visitors and hopefully inspired some of the very talented children to consider careers in science – we could certainly do with their skills and enthusiasm!