By 
Sara Elg,
Research Technician for the MRC-University of Glasgow Centre for Virus Research.
Glasgow Science Centre Science Lates: Under the Skin – 2nd June 2017
Armed with a brand new activity our team from the CVR entered the Glasgow Science Centre in June to participate in one of a series of events for adults: the Science Lates. Situated as we were next to the bar we of course had a steady stream of curious visitors willing to be our test subjects for our first attempt at the now very popular Glovebox Biohazard Challenge. Visitors could also marvel at mosquito pupae emerging into adults before their very eyes and chat to our dedicated science communicators one on one about anything and everything science while having a look at the CVR colouring book and trying their hand at some virus-themed arts and crafts. The session lasted four hours and we accompanied an estimated 120 visitors on their dive "under the skin" with our mosquitoes and viruses.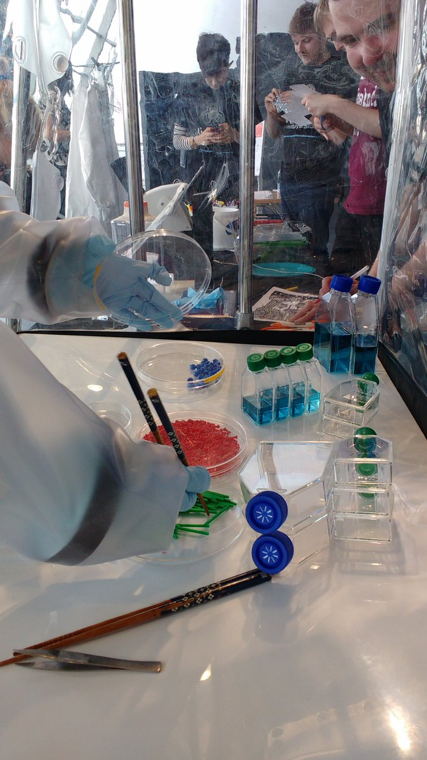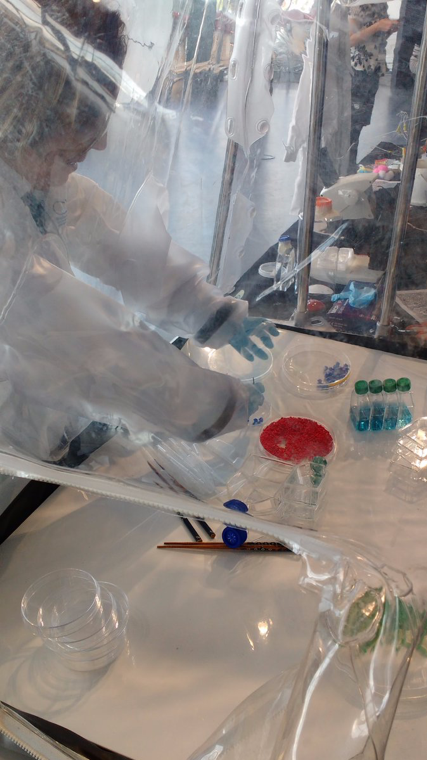 "Hold my drink, I'm going in!"
The GSC Science Lates saw the premiere of a newly conceived challenge-based activity: the Glovebox Biohazard Challenge. Contenders were properly dressed in lab coats, goggles and gloves and attacked a timed challenge in the bulky glovebox to try to beat their friends or their own high scores by sorting "mosquitoes" into Petri dishes based on colour and size – with tweezers and chopsticks! Liquids were also transferred between bottles and to finish the whole thing off, a risky game of chance was played with a large dice with the power to add or subtract up to 30 seconds of your time. The activity proved really popular and has since then become a mainstay activity with the CVR when on outreach missions. The challenge activity inside can be changed to suit various ages by de/increasing the complexity of the tasks and can also be matched well to the event attended or subject discussed. The bulky structure really draws people in, both to attempt the challenge and to learn more about the equipment and what it can be used for. The timed challenge element appeals to competitive natures of all ages, especially as attendees at events commonly come in groups – and who doesn't like to beat their friends/siblings/parents in a battle of science skills!